The classic style of Hong Kong and Guangdong continues as Block 1 of The Cosmos Phase I being released
2019.01.25Browse:759
Return List
Making its debut in Chongqing, KWG Group Holdings brings "The Cosmos",its high-end flagship product line, to the core of Central Park together with amodel of exquisite lifestyle for the people of Chongqing. The Cosmos ChongqingPhase I was officially launched in late 2018 and was recognised by more than300 owners in just two months, topping the 2018 exquisitely decorated productchart in the Central Park area. Block 1, being the last building with a view ofPhase I, will be released soon, reservations for which are accepted at themoment!
KWG's debut project in Chongqing after 24 years' hardwork
As the first property development of KWG in Chongqing, The Cosmos wasborn with an extraordinary gene. What does it take to make such a "smash hit"in Central Park?
Since its establishment in Guangzhou in 1995, KWG has been focusing onproperty development for 24 years. Over the years, it has expanded its businesspresence in five major regions of South China, East China, Southwest, NorthChina and Central China and delivered more than 70,000 residential units,covering key economic circles including the Yangtze River Delta city clusterand Greater Bay Area. To date, it has developed about 140 high-end projects in36 cities including Hong Kong, Beijing, Shanghai, Guangzhou and Shenzhen. With 90%of these coming with fine decoration, KWG is known as the "Master of HabitatAesthetics" and the "Artist of Exquisite Decoration" in the industry.
With its expandinggeographical coverage, ingenuity in product development, sound profitability,acute development strategy, synergistic development in different industries,nationwide presence and growing brand strength, KWG Group Holdings has beenwidely recognised in the industry with numerous awards, including "Top 10Comprehensive Real Estate Developers in China", "Top 10 China Real EstateEnterprises Listed in Hong Kong by Comprehensive Strength" and "Top 20 Brand ofChina Real Estate Companies" from institutes such as China Real EstateAssociation and China Index Academy, boasting its brand value of RMB21.57billion. It also won the Golden Brick Award for Real Estate of China——2018 RealEstate Company with Strongest Comprehensive Strengths.
As the top product line ofKWG, "The Cosmos" entails extensive experience in construction of residentialproducts and can be found in Guangzhou, Chengdu and Tianjin. In particular, ChengduCosmos received the Bloomberg International Real Estate Award and The Cosmos Chongqing is the fourth project in the series.
Trump cards to attain market recognition
Central Park is loaded with major development projects. Among numerous developers,KWG is not the first one to make its presence in the area. Instead, it is anewcomer to Chongqing who was barely known in the particular market. What doesit take for The Cosmos to stand out from other projects and win marketrecognition in such a short period of time?
The answer lies in theunique positioning of The Cosmos in the entire Central Park area. It is one ofthe few developments that seamlessly connect with "Lianjiang InternationalBusiness Centre". The integration of geographical, commercial, ancillary,transportation and product advantages makes it uniquely influential in thearea.
The Cosmos is located atthe geometric centre of Central Park and Lianjiang International BusinessCentre, adjacent to the large office and commercial cluster of the businesscentre. As one of the five core developers of Liangjiang International BusinessCentre, KWG will introduce its boutique shopping mall brand — U Fun — to establishnew premises for lifestyle experience by building a mid-to-high-end consumercentre integrated with shopping, art exhibition, workshop, bar street, diningand entertainment elements.
In addition to thecommercial circle and business centre close by, The Cosmos is about 300 metres tothe west of Central Park on a straight-line basis. Five landscapes are situatedin Central Park, which occupies an area of over 2,300 mu. These include acentral plaza, vibrant water feature, sunny grass slope, lakeside peninsula andstream in the jungle, the perfect gathering spots for family and friends.
In terms of accessibility, thereare three rail lines in the core area of Central Park: rail line No. 10 hascompleted construction; No. 5 is being built; and No. 9 is at the planningstage.
The combination of commercialcircle, park and rail lines, couple with the education resources in the CentralPark area as well as the strength of KWG's top product line, make The Cosmos fullymeet the demanding urban elites' pursuit of core locations and quality units.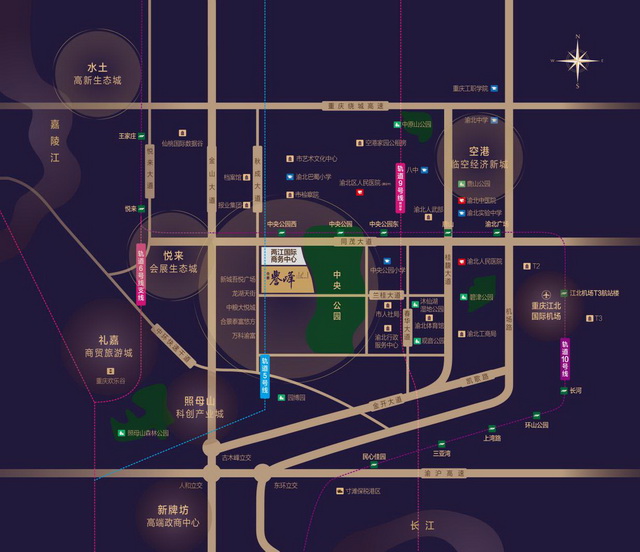 (Location of The Cosmos Chongqing)
Exquisite craftsmanshipshowcased in an artistic living environment
Among the abundant supplyin Central Park, The Cosmos attains market recognition with its exquisitedecoration and design.
From the very beginning,KWG Group Holdings forwent the standard product design and studied the livinghabit and demand of Chongqing people when creating The Cosmos. Accommodating tolocal conditions, it combines the qualities of Chongqing's landscape and the historicalfeatures of Bayu to transpose a construction to a living environment thatbecomes the carrier of "home".
The landscape of the estateis based on the concept of "hidden mountainous retreat in a bustling city" presentedin the painting Angelic Karst Cave (玉洞仙缘图) by Qiu Ying, an artist in the Ming dynasty. The unique housing estatewith Guangdong and Hong Kong features blends in with the beautiful landscape ofChongqing and integrates "mountain, water, rock and forest" elements in itslandscaped gardens. Furthermore, careful planning makes the living environmentmore unadulterated. The Cosmos Phase I is a high-rise housing estate with avery low plot ratio of 2.5 to create a low-density living space. The distancebetween two buildings is up to about 109 metres to provide a comfortable andopen environment for high-rise residence.
In The Cosmos, there is a different scene around every corner and astory behind every object. Paying tribute to life with arts and building thefuture with sincerity, The Cosmos represents the perfect example that combinescultural heritage and artistic value in Chongqing.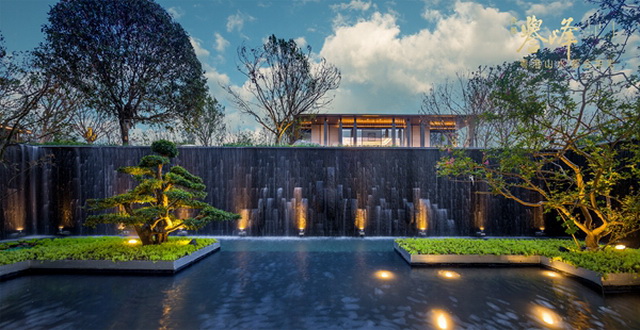 (Actual scene inthe demonstration area of The Cosmos Chongqing)
The much-anticipated Block1 coming in hot
Continuing the hot trendfrom 2018, Block 1 comes with the reputation of The Cosmos. It is located onthe North side of the land parcel of Phase I, facing the landscaped atrium ofover 8,000 m2 to offer maximum field of vision. The innovative triangularconfiguration of three units with two elevators on each floor ensures everyunit is well lit through the north and south facing windows and is situated atthe ends of the hallway. The three or four-room units meet the needs of householdswith three or four persons and allow appropriate separation. The suite designmakes living without interruption.
Following KWG Group Holdings' philosophy of fine decoration from HongKong and Guangdong, units of Block 1 of Phase I remain exquisitely decoratedwith fine details. By placing emphasis on "customisation" + "details" and inheritingthe blue blood from the top product series, eight key innovative designs were putforward for the first time in China: living and dining rooms with separateviews, double balconies with full-height windows, customised hotel-styleentrance door, leather background wall with cross patterns, three-layered ceiling+ full ceiling linings for living and dining rooms, L-shaped kitchen, full-housedoor frames with new classic design and artistic bathrooms. Residents can enjoya carefree life immediately after returning home.
Quality of life endorsed by refined and exquisite rectangular unit type
Good products should transcend time and space. From the perspective ofthe "detail-oriented" KWG, focus, professionalism, innovation and fineness areindispensable.
Type C unit has a floor area of about 112 m2 with four rooms,well lit by the north and south facing windows.
(Illustration of type C unit of The Cosmos Chongqing)
The most eye-catching unit type of Block 1 of Phase I is type E unit,which has a floor area of about 117 m2 and a 7.3 m long living room.The spacious living room, four regularly shaped rooms with windows on the same floor,zone separation and ultra-wide views from the north and south facing windows bringquality family living experience to life.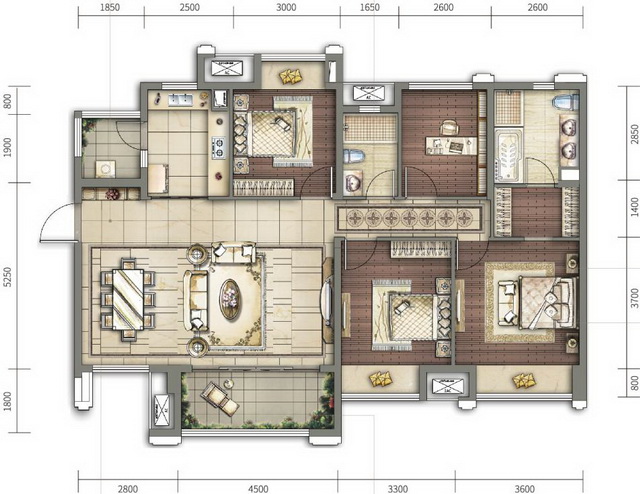 (Illustration of type E unit of The Cosmos Chongqing)
With 24 years of experience as the "Master of Decoration", KWG GroupHoldings created The Cosmos as exquisitely decorated one-floor units with acosy and warm feeling in a bustling city. The "art of omission" unseen inordinary residential projects also make it an extraordinary living environment.
Exquisitely decorated one-floor units in Guangdong and Hong Kong style ofabout 116-150 m2 in Block 1 of The Cosmos Chongqing Phase I will be releasedsoon, reservations for which are being made at the moment! Come take a look!