KWG invites you to a vibrant night to enjoy the lifestyle of trendsetters
2018.03.06Browse:520
Return List
As the developer and landlord of W Guangzhou Hotel, KWG Property is a diversified enterprise focusing on property development and management based in Guangzhou. Its property development projects include high-end luxury apartments and communities, high-end offices, hotels and apartments under international brands as well as extravagant shopping centres. KWG Property has developed several Starwood hotels in Asia.
W Guangzhou Hotel is located at the thriving Pearl River New Town in Guangzhou, the trendsetting hub of entertainment, commercial and design with expedited development and home to many Global 500 companies and extravagant shopping centres. Providing 317 guestrooms and suites, the hotel offers a comprehensive experience of contemporary trendy lifestyle while embracing the unique vitality and personality cultivated in this old city amid explosive modern economic growth.
In January 2017, the third "pop up dinner event" hosted by W Guangzhou Hotel was completed successfully. With "beef" as its theme this time, the event unlocked many surprising savoury secrets and offered experimental stimulations for visitors to take part in different taste challenges. Chef Philippe Bruneau offered an amazing culinary journey for gourmets.
W Guangzhou Hotel's "pop up dinner event" featured dynamic, unique and dazzling culinary surprises. Led by an innovative team, the event discarded the limitation of fixed venue faced by traditional restaurants and created a pop up dinner event full of comedy tension, challenging and disregarding typical dinner events.

Stop 1: Organic Farm Kitchen
This was where passion collided with nature, the scent of fresh soil and grass flourishing in the air and organic plants blossoming in the magical electronic tunes and rhythms created by W Hotel's classy DJ—this was the most astonishing organic farm kitchen beautifully restored from the hotel's cold cut pantry. Wonders never seemed to cease here—chilling kitchen wares and meat processors covered with colourful tropical fruits, delicious European appetizers allowing visitors to indulge in the joy of nature. Putting on aprons of dairy cow prints, visitors were invited to taste elegant appetizers delicately placed on different interesting crockery and innovative cocktails made from organic fruits. What else can make a platter more astounding? An iPad! Savoury snacks were arranged on a platter made of iPads flashing with colourful cows. As a whole, this was an ingenious cocktail party offering visitors an engaging visual and awesome tasteful experience of natural farm.
Stop 2: Milk Processing Plant
After a delightful cocktail party, pop up surprises had yet to stop. As the door slashed open at WETBAR on the 29th floor of the hotel, everyone could not but scream "WOW". Fashionable style, ebullience, freedom and carefree mood could all be found here. With shimmering white "milk processing plant" as the dinner theme, the pop up event once again stunned the guests with an unexpected time travelling journey, bringing everyone back to the day time with the bright atmosphere. A giant colourful cow was situated in the middle of the dining table announcing "tonight is my show time". Waiters and waitresses all dressed in milk processing plant uniforms, greeting every guest with a warm welcome.
Traditional dinner menu was casted off, filling guests with all kinds of wild guesses for the upcoming dishes and drinks. With profound cooking techniques and limitless sophisticated and creative ideas, Chef Philippe Bruneau, our contemporary young new Director of Cuisine, dexterously fused traditional French cuisine elements with Asian delicacies through molecular gastronomy right in front of the guests. His fine cooking skills presented the culinary culture of W Guangzhou Hotel while our sommeliers recommended a white table wine for each dish, just seamlessly perfecting every course. The dinner demonstrated exquisite cooking skills with finest ingredients, offering a remarkable and luring savour brigade for our guests through brand new culinary creations with inventive presentation.
With "dairy cow" as the theme, the dinner blended creativity and savour superbly. Each of the dishes was well-served in enlightening tableware with fine gourmet food. Together with white banquet chair covers in factory style, white napkins, rad tableware and decorations of dairy cow patterns, it was not merely a moment to relish, but an entirely new stylish dinner experience bringing our guests back to the nature.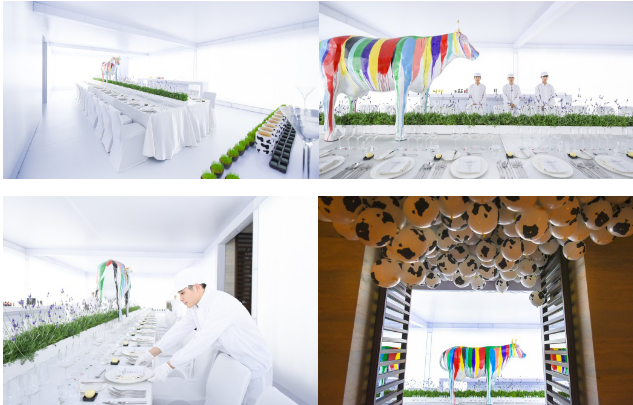 Stop 3: A Fairy-tale Miniature under a Tilt-Shift Lens
Dessert was, of course, the irreplaceable finale of an impeccable dinner. Wine and desserts filled the deluxe presidential suite with an area of 888 sq.m. It was an impressive picturesque moving scene—a fairy-tale world under a tilt-shift lens entirely built with desserts. Dozens of gorgeous French desserts enthusiastically performed their roles in this miniature. Meanwhile, electronic music performed by W Hotel's ardent live band ignited the hottest party in town, completing an epic night.