The 20th "KWG Art Lab" gives a new answer to "Art plus Public Service"
2019.06.05Browse:1926
Return List

"A nation is a community of people sharing a common belief and a home isa group of people living under the same roof; a home is the smallest form of anation which houses millions of homes…" On a midsummer afternoon, the voice ofchildren and the sound of a digital piano lingered in the teaching building of arural campus, depicting "Art" in the original.

On 5 June 2019,"KWG Art Lab", the public service campaign of KWG Group Holdings, embarked on anew journey in Guangzhou. A vehicle full of new books, school supplies andvolunteer art teachers headed towards its 20th stop – Jiuliang Primary School,Longtianzhen, Longmen County, Huizhou City, Guangdong Province.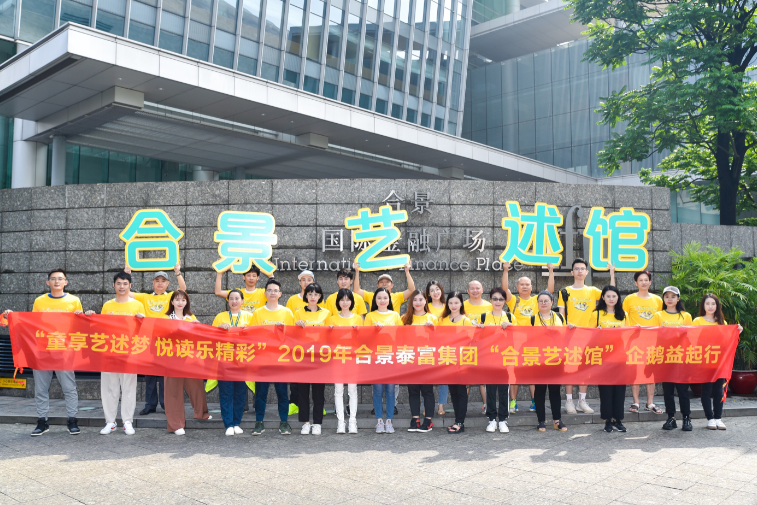 "KWG Art Lab" 2019 kickedoff with the theme "Let Children Have Access to Art and the Joy of Reading"

"Let Children HaveAccess to Art and the Joy of Reading." As depicted by the theme of thecampaign, the "KWG Art Lab" this year hopes to let children in remote villagestruly experience the joy of reading and the wonder of art through a wide arrayof extracurricular reading materials and interesting art classes and open upnew horizons for them, which is the initial intention and vision of "KWG ArtLab" since its inception.

Creating a space for children to enjoyreading

Drivingthrough the bustling city, onto an expressway surrounded by green mountains andinto the narrow village roads between the fields, the coach with cartoonstickers of "Let Children Have Access to Art and the Joy of Reading" stopped atthe entrance of Jiuliangcun after a two-hour journey. Colleagues and volunteerteachers of KWG Group Holdings finally arrived at JiuliangPrimary School with loads of supplies after a ten-minute walk.

Books and school supplies for students of JiuliangPrimary School from "KWG Art Lab"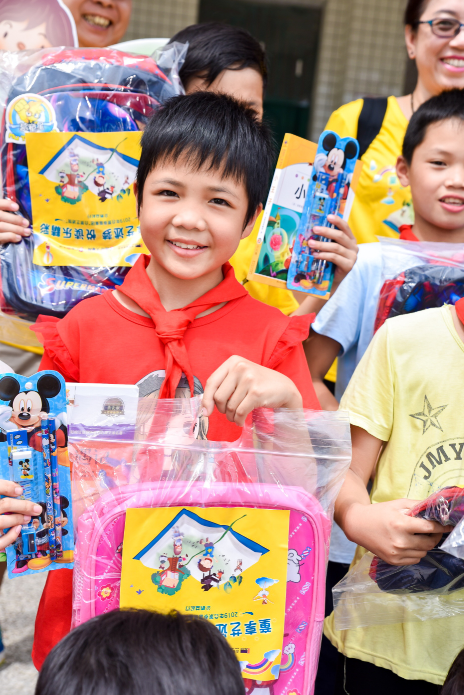 Children wreathed in smiles after getting new schoolbags and storybooks

As the afternoonrain went away, a group of special "guests" arrived at the tranquil campus, whosemission was to build an "Art Library" for the schoolchildren. Hammering soundswere made by the colleagues of KWG as they rushed to assemble new bookcases,tables and chairs in the vacant classroom on the third floor before schoolstarted. Cartoon drawings and a plaque which read "Love Reading Good Books"were hanged on the slightly mottled walls, while new and beautiful fairy-talebooks, storybooks, picture books, English books and science books were put onthe new bookshelves.

"We have always wanted to create a bright and beautiful reading spacewith rich resources for the children, and you have made our dream come true," saida teacher of Jiuliang Primary School. Originally, the school had a library anda reading room, but they were located in a shack next to the teaching building,with poor lighting and limited space. The iron bookcases were too high for thechildren too. A simple reading space was formed together with the mismatched plasticstools and tables. "Although we have quite a lot of books, most are supplementarybooks or textbooks. It is difficult to arouse children's reading interest withthose books, especially for lower-grade students who want to readextracurricular books. Over time, the library lost its function."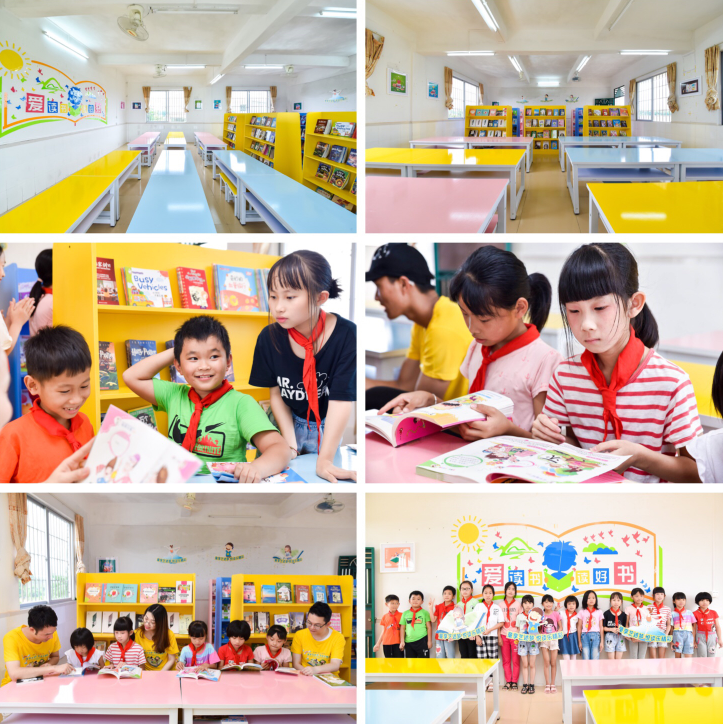 Children reading books inthe new "Art Library"

The new "ArtLibrary" brought some "big changes" to the original library.In the well-litclassroom on the third floor, the 1.2-metre-high pink, blue and yellow woodenbookcases were filled with interesting reading materials; the colourful desksand chairs were neatly placed; the cartoon drawings on the walls made the wholespace more cheerful. The colleagues involved in the building of the "ArtLibrary" said, "The 'Art Library' does not only renew the space, but also allowschildren to fall in love with reading and learn more by refilling the librarywith the books they love."

It is worth notingthat in addition to the "Art Library", the interactive H5 event "In the new worldof reading, which book do you pick" organised earlier drew the attention of companyemployees, property owners and the public to the current situation ofextracurricular reading of children in remote villages, and classic fairy-tale picturebooks such as The Little Prince, The Wizard of Oz, Alice in Wonderland, PeterPan, Pinocchio and Gulliver's Travels were collected andsent to the children of Jiuliang Primary School so that they could gain abetter understanding of the world through reading.

An interactive "Art" lesson on singing andsmiling

If the "ArtLibrary" brought children a happy reading space to broaden their horizons, the interactive"Art Lesson for Fun" guided by professional art teachers made art education nolonger "absent".

"Do you likemusic lessons?" "Yes," shouted excitedly by the children in the classroom, raisingtheir little hands.Due to the limitationof resources, music, physical education and art classes there are all taught bythe school's cultural-class teachers. Children rarely have access toprofessional art education. As such, when the volunteer art teachers put outthe digital piano, flutes and other musical instruments, the children could nothide their curiosity and excitement.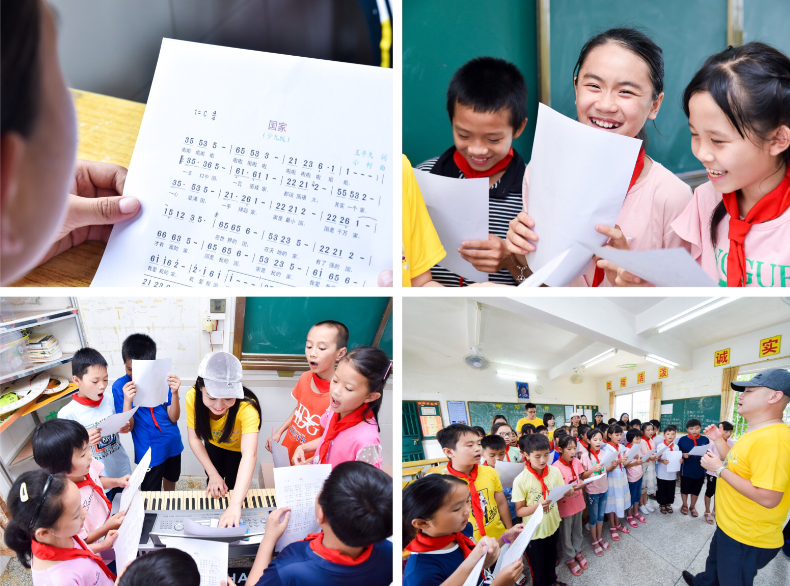 Children learning to sing Nationin the "Art Lesson for Fun"

To allowchildren to have a close interaction with music, there was a choral section in the"Art Lesson for Fun" where children were divided into different parts to learnthe song Nation. "With a strongcountry comes a wealthy home, I am part of my nation and my home, I love my nation,I love my home, I love my nation…" With the patience of the music teachers, thechildren overcame their shyness and began to sing along with piano. Their firstchoral "work" soon reverberated around the campus, warming up the hearts of theschool teachers and staff.

Perhaps, forthe children who lived in the city, this was just an ordinary music class, butfor those who were eager for but did not have access to art education in remotevillages, it was a dream about "Art" come true.

An equation of "Art plus Public Service" withan unwavering initial intention

In the seventhyear, all meaning of the 20th "KWG Art Lab" boiled down to the moments when thechildren of Jiuliang Primary School rushed into the new library; when they browsedthrough the new books eagerly; when they shouted "thank you" and "I like it" inexcitement with the fairy-tale picture books in hand; when they sang the samesong over and over again and smiled from ear to ear.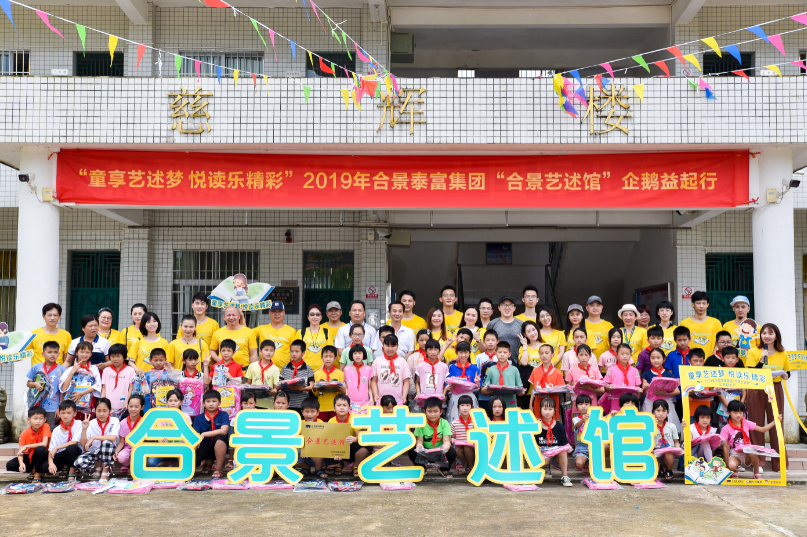 The 20th "KWG Art Lab" accomplished

Since its establishment24 years ago, KWG Group Holdings has been deeply involved in propertydevelopment and sales and has diversified into industry-city, education, hotel,long-term rental apartment, cultural tourism and comprehensive healthcaresectors. Meanwhile, it regards philanthropy and public service as its boundenduties. It has actively participated in public service activities in areas ofeducation, poverty alleviation, disaster relief and municipal infrastructureconstruction, and has made contributions and donations in kind totalling RMB800million.

The "KWG ArtLab" has developed into a regular public service project after leaving its"Art" footprints in Hainan, Guangdong, Sichuan, Guizhou, Jiangsu and Beijing in the past six years.

Focusing onthe current situation of extracurricular reading and art education in remote villages,and combining it with the company's pursuit of beauty, art and quality, the "KWGArt Lab" wrote such an equation of "Art plus Public Service": when art meetspublic service, the children in remote villages could have an interestingreading space with rich resources and be enlightened by art education throughthe "Art Library" and "Art Lesson for Fun", which would eventually give them aglobal perspective and stretch their imaginations of art.

In the future,we will continue to adhere to our initial intention on public service andrelentlessly pursue new and novel answers to the equation of "Art plus PublicService".