KWG honoured as one of the "2019 China TOP 100 Real Estate Developers" on growing scale and strength
2019.03.19Browse:2810
Return List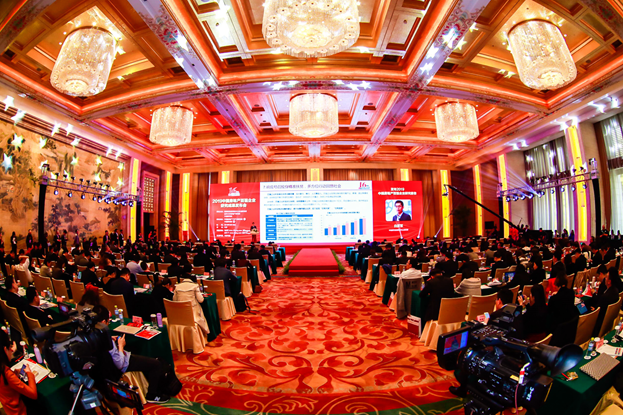 The 2019 China TOP 100 Real Estate Developers Conference held in Beijing
On 19 March, the "2019 China TOP 100 Real Estate Developers Conference and 16th China TOP 100 Real Estate Entrepreneurs Summit" was held in Beijing by the "China Real Estate TOP 10 Research Team", which was jointly established by the Enterprise Research Institute of Development Research Center of the State Council, the Institute of Real Estate Studies of Tsinghua University and the China Index Academy.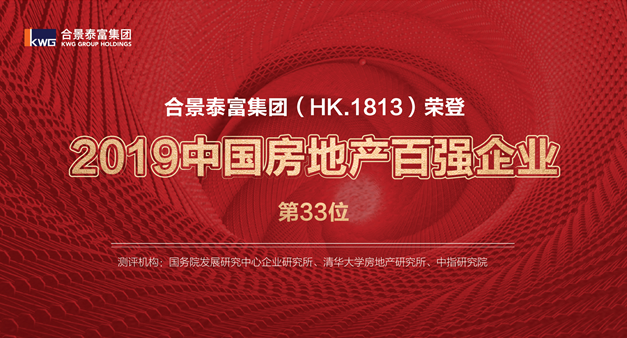 The "China Real Estate TOP 10 Research Team" has been conducting research for the top 100 real estate developers in China for 16 years since 2004. The research results of the top 100 enterprises have become an important standard for assessing the operational strength and industry position of real estate developers, which is widely recognised in society. The research team evaluates the enterprises' comprehensive strength from seven aspects, namely scale, profitability, growth, stability, financing ability, operational efficiency and social responsibility, in a comprehensive and objective manner, and guides enterprises to continuously optimise their development models in order to promote the healthy and virtuous operation of the industry.
At the TOP 100 Real Estate Developers Conference this year, KWG Group Holdings was ranked 33rd among the "2019 China TOP 100 Real Estate Developers" for its diversified business layout, ingenuity in product development, sound profitability, acute development strategy and growing brand strength.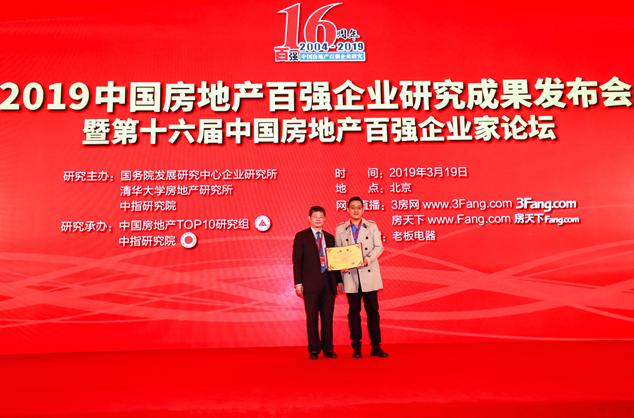 KWG Group Holdings receiving an award at the conference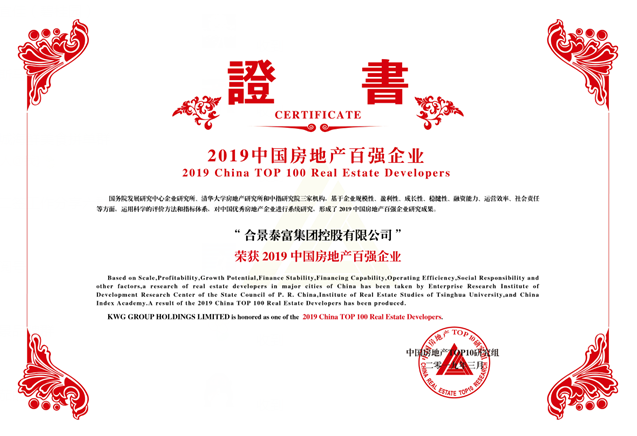 KWG Group Holdings honoured as one of the 2019 China TOP 100 Real Estate Developers
Faster development with outstanding core indicators
In 2018, thanks to its forward-looking development strategy, premium land reserve focusing on Guangdong, Hong Kong, Macao and the Yangtze River Delta, sufficient supply for sale, quality and marketable products and good market reputation, KWG Group Holdings made quite an achievement and witnessed high growth, an optimised mix and sound performance in terms of sales results, land reserve and financial indicators, respectively.
High growth. Data shows that as at the end of December 2018, KWG Group Holdings completed total pre-sales of RMB65.5 billion in aggregate with a year-on-year increase of 72%. The apparently higher growth in sales performance facilitated the achievement of the RMB65 billion sales target set at the beginning of 2018, providing a solid foundation for the growth in results and scale in 2019.
An optimised mix. Adhering to the development strategy of "Founded in Guangzhou and Radiating out across the Country", KWG Group Holdings accelerated the national expansion process. It has expanded its business presence in 36 cities such as Guangzhou, Beijing, Shanghai and Hong Kong, spanning five major regions including South China, East China, Southwest, North China and Central China, covering national key economic circles such as the Greater Bay Area and Yangtze River Delta city cluster with 136 premium projects. As at 30 June 2018, KWG Group Holdings had attributable GFA of approximately 15.26 million sq.m. As at the end of August 2018, if the urban renewal projects to be put on sale were included, attributable land reserve and total saleable value amounted to approximately 20 million sq.m. and RMB550 billion, respectively. In particular, projects in first and second-tier cities with stronger risk resistance accounted for a substantial proportion of the saleable value. Sufficient land reserve and an optimised mix are both conducive to the continuous growth in sales scale.
Sound financial performance. While growing its results and optimising its land reserve, KWG Group Holdings continued to be financially prudent and maintained a profit margin that was higher than industry average. Data shows that as at 30 June 2018, KWG Group Holdings' profit attributable to owners of the company was RMB2.171 billion, up 39.5% from 2017; core profit was RMB1.961 billion, up 36.2% year-on-year; proportionate gross profit margin was 33.8%, largely the same as that in 2017; proportionate core profit margin was 19.3%, up 3.9 percentage points from 2017. Meanwhile, as at the end of June 2018, KWG Group Holdings had cash and bank balance of RMB41.57 billion, with the average borrowing cost remaining at a healthy level of 5.8% and an average loan period of 3.79 years, demonstrating its healthy debt structure and sound financial position.
Multi-pronged approach to boost scale
In 2018, KWG Group Holdings experienced an important change in its name from "KWG Property Holding Limited" to "KWG Group Holdings Limited" and was ready to make a fresh start. The change of name signified the company's deep reflection on its future development: leveraging its strength in real estate business to expand into segments with huge potential including industry-city, education, hotel and long-term rental apartment, and capitalising on the synergy between different segments to create a closed loop for the betterment of people's lives while providing a strong support for a boost in the scale of the group.
Commercial layout delivering results. In 2018, as the operational property projects of KWG Group Holdings rolled out intensively, the forward-looking commercial layout started to deliver results. In the hotel segment, the fifth branch of its self-owned brand, the Mulian Hotel, was launched in Suzhou. Together with the hotels jointly developed with international brands including W Hotel Guangzhou, Four Points by Sheraton Guangzhou, Dongpu, Conrad Guangzhou and Courtyard by Marriott Suzhou Mudu, there were a total of nine hotels in operation under KWG Group Holdings. In the shopping mall segment, following the opening of Shanghai U Fun in 2016, the two major shopping mall brands of KWG Group Holdings (i.e. U Fun and M • Cube) expanded into core cities such as Suzhou, Chengdu, Beijing and Guangzhou. The shopping malls achieved high occupancy rate and foot traffic thanks to their prime locations, trendy designs and brand positioning, bringing a light-luxury and fashionable shopping experience to local consumers.
It is worth noting that KWG Group Holdings also set 2018 as the starting year of its long-term rental apartment business. Targeting at market segments such as high-end business people, white-collar workers and novice workers, KWG Group Holdings launched three long-term rental apartment brands, namely Primcasa, Riscasa and Novuscasa, and put pilot long-term apartment projects in Guangzhou, Foshan, Beijing, Shanghai and Suzhou into operation during the year.
Data shows that in the first half of 2018, KWG Group Holdings' revenue from attributable operational properties amounted to RMB708 million, up 20% year-on-year. As the operational properties mentioned above ramp up, high growth in revenue from operational properties is expected.
Crossindustry cooperation deepening "industry + real estate" strategy. Apart from its continuous efforts in the established shopping mall, hotel and long-term rental apartment segments, KWG Group Holdings also actively seek for deep cross-industry cooperation with leading enterprises in China and overseas to expand into new sectors with potential for development such as education and cultural tourism, so as to deepen the "industry + real estate" strategy. In particular, it partnered with the government of Longmen County, Huizhou City, Guangdong and South China Normal University to jointly establish The Affiliated LongMen School of South China Normal University for basic education; joined hands with Shenzhen GTA Education to open up a new era for the "real estate + smart education" industry; formed a strategic alliance with HN-PV to create a new cultural tourism model; strategically cooperated with Suning and Alibaba Cloud to enhance the functions of backend service in a bid to create a closed loop for one-stop smart living.
Management innovation and "internal strength" enhancement to improve efficiency and quality
Following the strong growth in results, diversified business development, scale expansion by an order of magnitude, KWG Group Holdings, which had entered the fast lane of development, also focused on the enhancement of "internal strength" through mechanism innovation, talent optimisation and information construction, taking management to a new level with an efficient, refined and scientific approach.
Mechanism innovation. In 2018, with the promotion of innovative mechanisms such as the co-investment mechanism, the business partnership system and the "KWG Home" marketing-by-all model, the motivation and commitment of KWG Group Holdings' employees were greatly mobilised and the turnover rates of projects were speeded up, achieving efficiency maximisation and profit sharing.
Talent optimisation. Adhering to the core peopleoriented philosophy, KWG Group Holdings enabled its employees to grow quickly and develop freely in the past year by systemically building the "7+1" team, opening up the channel of appointment, innovating the talent training model, optimising the organisational structure and upgrading corporate culture to inject strong talent momentum for the company's sustainable development. Meanwhile, in the 2019 annual meeting, KWG Group Holdings put forward higher requirements for building a more competitive team of KWG people, including continuing to deepen the reform of the human resources system to improve the quality of employees in general; further improving the overall quality of the project management team to strengthen the construction quality of the group's products; building a professional, cooperative, disciplined and hard-working sales force to comprehensively improve marketing ability; strengthening industry communication and learning to maintain team advancement and innovation spirit; and promoting strong communication and complement among departments to create a vibrant KWG team.
Efficiency enhancement by informatisation. Besides mechanism innovation and talent optimisation, KWG Group Holdings also put on the wings of "informatisation" for better management. With the upgrade of the information platform, management became more refined, risks became more manageable, and efficiency was further enhanced. In February, KWG Group Holdings partnered with SAP and IBM to construct the SAP digital management platform of KWG Group Holdings. KWG Group Holdings hoped to make the project into an information benchmark for quality and growth-oriented real estate enterprises. Through the construction of a platform to internally connect every segment of the company and integrate business and data resources of various professions, the reach of management was extended with a more forward-looking vision, providing a scientific and intelligent management approach and platform support for the group to grow larger and stronger in the future.