KWG and Suning Debuted Industry Crossover, Upgraded Back-end Services Empowering Good Life
2018.10.20Browse:961
Return List
KWG Group and Suning Holdings Group entered into the Strategic Cooperation Agreement in 19 October 2018. Both parties will leverage each own's advantages to consolidate off-line service facilities and extend on-line service occasions, in order to construct a one-stop smart life closed-loop and build a good life. Cai Feng Jia, the chief executive officer of KWG Group, Chen Guang Chuan, the vice president of strategic investment development, Yang Huan, the sales and marketing general manager, Lin Kai Ping, the general manager of commercial affairs division, Tu Zhuo Hao (涂卓浩), the director of finance resources division, Jin Ming, the vice president of Suning Holdings Group, Chen Yan, the vice president of Suning Real Estate/ president of investment development management division, Pan Yu (潘玉), the vice president of development division and strategic customer center of Suning Yigou and other leaders have attended the signing ceremony.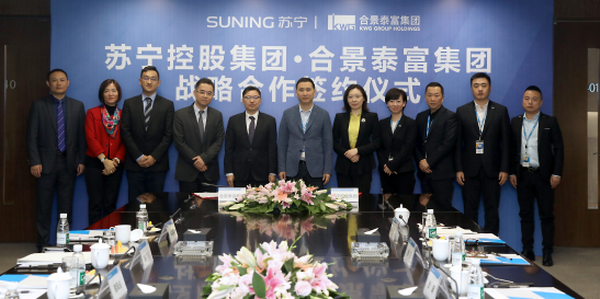 Powerful Cooperation with Rich Service Scenario Creating Closed-loop of Life
KWG Group cooperating with Suning Holdings Group, a national leading smart retail enterprise, this time is a strong cooperation between two leading enterprises covering different industry. Both parties will fully integrate their respective advantages in each expertise, in order to foster a broader resources consolidation in a higher level. Suning Holdings is a leading enterprise in China which ranked the second in the top 500 privately-owned enterprises in China. It principally engaged in the business of eight main vertical industries, Suning Yigou, Suning Logistics, Suning Finance, Suning Technology, Suning Real Estate, Suning Media & Entertainment, Suning Sports and Suning Investment, in which Suning Yigou was listed on the Fortune Global 500. In the field of E-commerce, Suning has its strength in off-line commerce which other enterprises would be hard to surpass. Under the strategy of deepening the development of retail, Suning will accelerate its upstream quality resources targeting to realize interinfluence between multi-industry and develop the release of bonus.

Both parties will commence deep cooperation in retail, investment, finance, procurement, commerce and many other fields, in which, the well-developed smart retail mode and smart retail activities under Suning will be introduced as social facilities. At the same time leveraging the APP platform of both parties to realize the network connection of the user-friendly services and meet the needs of landlords and customers living a high-quality life on-line and off-line. These are the biggest focuses of the cooperation this time.

Innovation of Multi-fields with Multi-scenario Delivering All-time High-Quality Life

Cooperating this time, KWG Group integrated the resources from real estates, shopping mall, hotels, apartments and other business activities. It also introduces Suning Yigou, Suning Red Baby, Suning Sports, Suning Cinema, Suning Supermarket, Suning Store and other self-owned brands of Suning Holdings, and implement in the society included in the project to provide the landlords and customers with convenient and high-quality consumption and service facilities.

Both parties also plan to penetrate the function of Suning Finance APP service into KWG Future Plus APP (合景未来家APP) to bring about 20 user-friendly services, including on-line utility bill payments, tram/ movie tickets purchase, mobile phone top-up, bank account transferring, credit card repayment, insurance and financial products purchase. This provides the landlords and customers of KWG Group with rich and diverse application scenarios. In addition, it also seeks to provide landlords and employees with mortgage load, consumption loan, financial management and other convenient financial services. A one-stop smart life closed-loop is established through off-line service facilities introduction and on-line service occasion expansion.

Mutual Advantages with Upgraded Back-end Services Enabling Good Life

Having the strategy of "Future Plus" (未来+) launched in 2016, KWG Group continued to foster the integration of each business activities and industries, utilize the big data analysis, optimize diverse business activities, life serves, member management system and the service function of upgraded service end. The smart application program "KWG Future Plus APP" (合景未来家app) initiated by KWG Group is officially in store at the beginning of this year. Through mobile internet techniques, the resources from the six fields of residential, commercial, property, member, big data and intelligentization are integrated. It also fully provides real estate service, shopping mall discount, VR room, life service, membership benefit and other exclusive service functions to all landlords and customers. Deep mobile occasional services will be provided in the society through the creation of comprehensive one-stop smart service platform.

Ever since the implementation of Suning smart retail development strategy, its rapid expansion and initiative scenario integration mode are highly under the spotlight in the market. The data indicates that Suning possesses of nearly 9,000 branches in each category as at 18 October. The operating revenue of Suning Yigou for January to June this year is 110.678 billion Yuan, represents a year-on-year increase of 32.16%. The sales volume of physical stores is 151.239 billion Yuan, represents a year-on-year increase of 44.55%. This efficiently shows the advantages of its development strategy and smart retail mode in general. As for the future, Suning continues to fulfill any service needs of consumers anytime anywhere by utilizing its unlimited on-line off-line channel scenarios seeable and reachable at all time, so as to realize the one-line off-line full coverage.
The cooperation between KWG Group and Suning Holdings is the chance to target the quality commercial business resources and to allocate occasional internet. The great advantages of Suning in supply chain, import inflow, commercial business operation and other fields will become the "additional advantage" of upgraded services for KWG Group. The introduction and connection of the advantageous resources will enable its landlords and customers to enjoy the smart life integrating leisure, convenience, comfortableness, to enhance the consumption scenarios of Internet of Things and service experience for the society. Accordingly, enabling a good life by constructing a convenient, intelligent and modern life closed-loop.