About KWG GROUP
KWG Group Holdings Limited was founded in 1995 and listed on the Stock Exchange of Hong Kong Limited in 2007 (stock code: HK. 1813). Over the past 24 years, the Company has always been upholding the core philosophy of "Build Home with Heart, Create Future with Aspiration", actively exploring people's requirements for an ideal life as well as engaging in six major business segments, namely real estate, city-industry integration, education, tourism, hotel and long-term rental apartment. It has now become a leading comprehensive urban operator.
With an ever-increasing scope of business, ingeniously-designed products, stable and outstanding profitability, responsive and insightful development strategies, coordinated development of various business segments, territory-wide urban positioning and ever-growing brand strength, KWG Group Holdings Limited has won widespread recognition in the industry and awards including "Best 10 of Development of China Real Estate Developers", "TOP 10 of China Real Estate Enterprises Listed in Hong Kong" and "Top 20 Real Estate Enterprises in China by Brand Value" over the years from China Real Estate Association and China Index Academy. With a brand value of RMB 21.57 billion, it has received the Golden Brick Award - 2018 China Real Estate Enterprise Award. As of 30 June 2018, KWG Group Holdings Limited had total assets of RMB 156.368 billion and a total area of equity buildings of 15.26 million square meters.
In the field of property development, KWG Group Holdings Limited, in line with the development strategy of "Founded in Guangzhou and Radiating out across the Country", focuses on four core business segments, namely residential properties, commercial properties, cultural tourism and the post-service system. It has expanded to 36 cities including Guangzhou, Beijing, Shanghai and Hong Kong, spanning South China, East China, Southwest China, North China and Central China, covering the key economic circles such as the city clusters in the Yangtze River Delta and the Guangdong-Hong Kong-Macau Greater Bay Area. The Company has developed nearly 150 premium projects.
In the field of residential property, KWG Group Holdings Limited actively explores the trend of nowadays urban habitation demand in China and commits to providing customers with a more long-lasting, vibrant and pleasant living space. Accomplishing the star projects such as Guangzhou Tian Luan and Chengdu Yu Feng which have become "business cards of quality urban habitat", KWG Group Holdings Limited is known as the "master of habitat aesthetics" and "exquisite artist" in the industry.
In the field of commercial property, following the urbanisation of China and the internationalisation of cities and after fully exploring the development planning, layout and functions of first-tier and strong second-tier cities in the country, KWG Group Holdings Limited tapped into the commercial property sector in 2003 by first expanding to the commercial building segment. Office buildings were built in CBDs of several cities including Guangzhou, Beijing and Shanghai. With their unique architectural designs, convenient locations and efficient and intelligent management systems, the buildings have become a shining business card on the axis of the cities' economy. Later on, KWG Group Holdings Limited stuck to the residential and commercial property co-development model. In 2014, KWG Group Holdings Limited carefully constructed commercial complexes, adhering to the concepts of environmental protection, organic and LOHAS and universal values. Given the different regional cultures and consumption habits, two self-owned commercial brands – U Fun and M • Cube – were forged to breathe new life into the cities.
In the field of cultural tourism, as China enters the era of mass tourism, people's demand for accommodation experience is increasing continuously. KWG Group Holdings Limited, with devotion to integrating cultural tourism resources, has built the Yunshang Retreat in Dayi County, Chengdu, making use of various indigenous ecological resources, including local mountains, wetlands, hot springs, forests, gardens and 400 mus of scenic lakes, as well as putting together five major tourism systems, namely accommodation, food, health care, walks and festivals and celebrations, to build the ecosphere of integrated development of culture + tourist accommodation.
In the field of post-service system, KWG Group Holdings Limited, based on customer needs and service experience, integrates business models with services, leverages on big data analytics and upgrades the post-service system which consists of four major segments including property management, customer service, member management and cloud platform of KWG to offer customers multi-dimensional values of diversified services, composite lifestyles and enriched experience. In February 2018, KWG Group Holdings Limited officially launched the app "KWG Future Home". KWG Group Holdings Limited integrates all its business resources with the use of mobile Internet technology and takes into consideration the needs of property owners and customers as well as the respective community attributes to provide all property owners and customers with a one-stop smart service platform which encompasses solutions to all aspects of life, leading to a comprehensive upgrade of the post-service system.
Following the progress of urban development, KWG Group Holdings Limited is committed to consolidating various resources, promoting the optimisation and upgrade of industrial structure and servicing functions of urban development as well as advancing the development of the new urbanisation model in terms of city functions, city image and industry foundation. Adhering to the "people-oriented" philosophy as well as ecological, low-carbon and green concepts of sustainable development, KWG Group Holdings Limited joins hands with domestic and international outstanding enterprises from other industries and actively looks for a coordinated development model. Starting off with five sectors, including eldercare, agriculture, healthcare, technology and industries induction, a new co-existing environment for industries has been created to achieve enterprise transformation and upgrade as well as high-quality growth, providing the function of promoting ecology, livability, greening and intelligence, and contribute to the enhancement of city quality and city space optimization.
In the field of eldercare industry, KWG Group Holdings Limited actively executes the "Healthy China" strategy. After an in-depth study of the aging society, KWG Group Holdings Limited joins hands with Vcanland Holding Group Limited, a leading domestic pioneer in life science, to enter the eldercare industry. By consolidating the advantages in life science R&D and the eldercare industry, the alliance works together to build a town of healthy lifestyle, engage in joint-investment, create modules such as industry funds, set the community healthy living standards and develop mid-to-high-end eldercare facilities and mid-to-high-end nursery operation modules so as to create a comprehensive and quality living experience for elderly people of all ages.
In the field of modern agricultural industry, the Yunshang Retreat in Dayi County, Chengdu lays its foundation on modern agriculture industry, health and retirement education industry and cultural tourism industry, and comprises an ecological circle that integrating the above-mentioned three industries, so as to revitalises agricultural land and forms a closed loop of consumption cycle, and has become KWG Group's new model of cultural and countryside complex that integrates industry, culture and ecology.
In the field of Great Healthcare Industry, KWG Group collaborates with VCANBIO Cell & Gene Engineering Corp., Ltd, the only listed company in China that principally engages in cell and genetic engineering, and China Cord Blood Corporation, the leader in cord blood hematopoietic stem cell storage, to expand into the life science and technology industry and jointly promote the development of bioengineering in China, providing solid support for the all-round improvement of China's medical technology. The Star of KWG is located at Guangzhou International Biotech Island, the core carrier of the national base for biotechnology approved by the National Development and Reform Commission. As a business landmark of the biotechnological industry base, the building is home to a number of biotechnology-related enterprises. Given the rapid development of the healthcare service industry and the rising demand for high-end medical services from the market, KWG Group is working with Hunan Medical and Health Industry Investment Management Co., Ltd. to jointly develop the medical and healthcare industry, promote the upgrade of social medical service provision, and provide quality medical services.
In the field of Technology Industry, based on the idea of creating a better life for the city and urban habitat, KWG Group embraces the intelligent technology with an open attitude, and to cooperates with China Eagle Aviation Technology Co., Ltd., CC Intelligent Technology Co. and Alibaba Cloud Computing Limited to speed up synergistic business innovation, build a new closed loop for the intelligent industry, concentrate on three modules including smart home, smart community and smart park, consummate the development and construction of the big data and IoT platforms, and forge innovative, harmonious, ecological and secure communities and smart parks.
In the field of Industry Induction, riding on the new industrial towns and through leading, innovative and incubating driving forces, KWG Group has forged a complete chain of industry research and planning, industry clustering, industry carrier building and industry operation services, and makes use of models such as town revitalised by industry, industry led by town, industry-town integration, urban and rural areas integration and co-development to promote the new urbanisation model and provide a continual force to drive industry upgrade and economic development in regions where the new industrial towns are located. Located in Guangzhou Science City, International Creative Valley is a prominent project of KWG Group imparting industrial resources. Since its establishment in 2012, it has attracted 300 companies and cultivated an array of high-growth innovative enterprises, forming an ecosystem which integrates biomedicine, intelligent manufacturing, financial innovation and Internet technology and driving economic growth in the region while creating a large number of employment opportunities. In addition, KWG Group also forms a strategic alliance with Suning Holdings Group. Leveraging the eight segments of Suning, namely Suning.com, Suning Logistics, Suning Financial Services, Suning Technology, Suning Real Estate, Suning Media and Entertainment, Suning Sports and Suning Investment, with smart retail at the core, both parties cooperate closely in five aspects (i.e. technology, investment, retail, finance and procurement) to explore the smart retail ecosystem through the coordinated development of various business segments.
In the field of Education, KWG Education Group was established in 2017. Since its inception, it has been aiming at cultivating students with a humanistic heritage, a world vision, scientific literacy, an innovative mind to adapt to future needs, providing domestic students, teachers, schools and the society with quality educational resources that combine Chinese and Western characteristics. In addition, in view of the need for supporting education services given the quality living standards in the urban setting, the business chain of KWG Education Group extends vertically from pre-school and basic education to higher education, and expands horizontally by exploring through research and study and supplemented by international education, in order to achieve full coverage within and outside the classroom, and strive to provide a fully-chained comprehensive solution to education in urban region. At present, KWG Education Group operates The Affiliated Longmen School of South China Normal University, and has strategically acquired Guangzhou Hengde Education Technology Limited. It will open education supermarkets in its large-scale and high-end commercial districts, theme shopping malls and living communities such as U Fun to establish community education and training platforms. In addition, KWG Group is also in strategic cooperation with Shenzhen GTA Education Tech Ltd., a key high-tech enterprise of the China Torch Program, to begin a new phase in the "real estate + smart education" industry.
In the field of Hotel, KWG Group has been cooperating with Hyatt Hotels, Marriott International and Hilton International, in order to promote the internationalisation of hotel image, professional management and service standardisation, creating city business cards and enhancing the city's brand image. Meanwhile, KWG Group established its self-owned boutique hotel brand Mulian Hotels. Adhering to the brand proposition of "the miniature mountain hidden in CBD", the hotels use the artist space as a carrier to create the restrained and tranquillity features possessed by business travellers. At present, KWG Group's hotel projects can be found in Guangzhou, Shanghai, Chengdu, Suzhou and Hangzhou. Seven hotels have been completed that showcase the style of the city. 12 more is expected to be completed in 2018 and 100 in 3-5 years.
In the field of Long-term Rental Apartment, in 2018, KWG Group concentrates on the long-term rental apartment sector and has created three brands on its own, namely "Primcasa" (serviced apartments), "Riscasa" (international youth apartments) and "Novuscasa" (student apartments/customised dormitories), to offer diversified services to businessmen, white-collar workers and students. It has established its presence in first-tier and strong second-tier cities such as Beijing, Shenzhen, Guangzhou, Shanghai, Hangzhou, Nanjing, Foshan, Tianjin and Chengdu and expects to build 5,000 and 30,000 apartments by the end of this year and 2020 respectively.
KWG Group regards charitable responsibility as its unyielding commitment since its establishment 23 years ago, and the Group has been continuously and proactively involved in such charitable fields as education, poverty alleviation, post-disaster relief, and municipal infrastructure. As of today, it has made monetary and in-kind charitable donations of RMB500 million in aggregate.
Going forward, through its assertive and solid strategy, KWG Group will continue to promote a better living style with quality, and to create endless possibilities for creating better city life.
9.050 -0.690 (-5.28%)
港交所上市企业 01813.HK
THE "1468" CORPORATE VALUE SYSTEM
One Mission
Build Home with Heart, Create Future with Aspiration
Persevering in details, building the perfect space, and realising the land value to create a better future together.
Four Strategies
Four Strategies:
Balanced and sound asset management strategy
Premium Land Reserve:
Rigorous and pragmatic land reserve strategy
Diversified Operations:
Diversified Operations
Following the Trend:
Policy-oriented development and planning strategy
Six-dimensional Values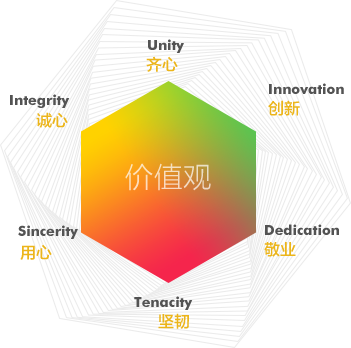 Eight Codes of Conduct
Advocate finding problems and giving suggestions; object to proposing problems without giving suggestions.
Advocate personal involvement and pragmatism; object to grandiose ideas and working behind closed doors.
Advocate sufficient communication and working together; object to getting benefits at others' expense.
Advocate efficient execution and being result-oriented; object to procrastination and opportunism.
Advocate service consciousness and putting customers first; object to superiority and bureaucracy.
Advocate taking responsibility and admitting to mistakes; object to muddling along and finding excuses.
Advocate integrity and conservation; object to corruption and extravagance.
Advocate integrity and conservation; object to corruption and extravagance.